I don't usually talk about political things on my blog, but the news of yet another school shooting breaks my heart!  We, as teachers, MUST do something to keep our students safe.  Read this post and learn how you can join the #NotOneMore movement.
What can we do to stop the violence in our schools?  How about starting with a ban on military-style assault weapons?  (Now before anyone starts talking about second amendment rights, I'm not talking about taking away guns that people use to protect themselves in their homes or for hunting.  I'm talking about getting rid of military-style assault weapons that shoot enormous amounts of bullets per minute.)
There is no reason that anyone should have access to these types of assault weapons – NONE!!
In the U.S. between 2001 and 2014:
440,095 people were killed because of gun violence

3,043 people were killed because of domestic terrorism
We, the Americans, are the terrorists – we are the ones killing ourselves, yet our country fails to address this issue.  In countries without as many guns, gun deaths are a tiny fraction of the number here in the U.S.
In the U.S., each year on average:
114,994 people are shot

33,880 people die from gun violence  
The only way that we can get our representatives and senators to vote for this type of ban is to make them so uncomfortable and so fearful of not getting votes in the next election that decide to take one small step towards making our schools and communities safer.
Let's use our power to flood the Internet and social media with images from teachers and students all around the country holding up the same sign.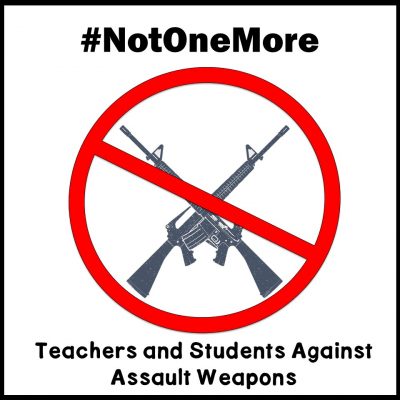 As you share this image and pictures of you and your students holding this image,
 Use the hashtags #NotOneMore , #TeachersAgainstAssaultWeapons, and #StudentsAgainstAssaultWeapons.
Tag at least 3 other people to encourage them to do the same.
Tag your representatives and senators.
Teachers and students are powerful!  Let's create a movement!
Statistics from http://www.bradycampaign.org/key-gun-violence-statistics and https://www.cnn.com/2016/10/03/us/terrorism-gun-violence/index.html