How many times have you sat through professional development classes and learned nothing useful? Wouldn't it be great to get free professional development to help you be a more effective, energetic, and passionate teacher? Well, the Practical and Comprehensible FREE Conference is back!!
Practical and Comprehensible Conference: Refresh!
45 high-quality presentations from veteran language teachers who will give you amazing tips and tricks to refresh your teaching, rejuvenate your lessons, and bring joy back to your classroom! 3000+ language teachers attend this conference every year and rave about what they learn and how excited they are to implement new strategies.
Free Professional Development for Language Teachers!
Live Dates: April 20-23
If you're busy April 20-23 or want more time to watch all 45 presentations, get an All-Access Pass with early bird pricing for $59 (until April 17th) that allows you to watch whenever you want.  Includes a PD certificate for 30 hours! 
And if you want access anytime, plus tons of amazing resources and lesson plans from the veteran presenters, get the Launchpad All Access Pass for $99 (until April 17th).  Trust me – you'll more than get your money's worth with that one!
And guess what? I'll be presenting at the conference: Using Boom Cards to Improve Student Fluency and Save Your Sanity! If you know me a bit by now, you know that Boom Cards are my favorite language learning tool. Is there anything better than digital, self-correcting task cards with native speaker files and pop-up grammar lessons? I mean seriously!
The best part is that you send the link and your job it done. Perfect for in-class review, homework assignments, or sub plans. Just send the link, sit back with your coffee, and watch the magic happen!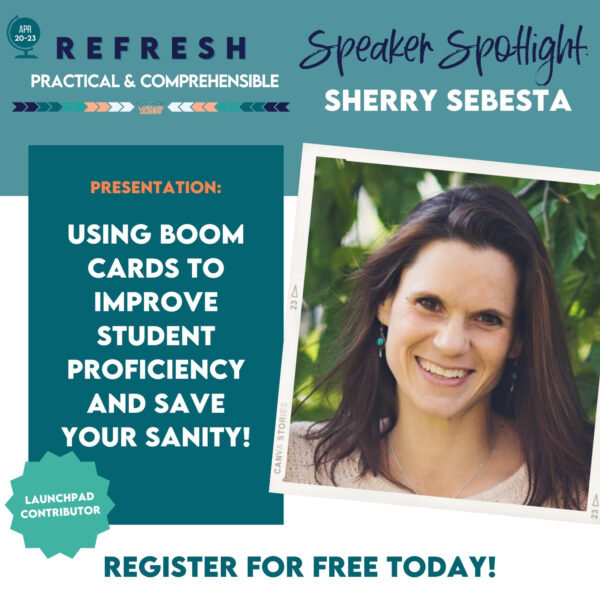 Looking forward to seeing you at the conference for the best free professional development so you can feel more excited and confident in your classroom this spring!
Happy Teaching!
~Sherry
P.S. Yes, I do receive a small amount of money for promoting this conference, but I only recommend events that I feel are highly worth your time and will help you be a more joyful, effective teacher. #affiliate