Thought I'd write this fun post sharing how awesome it is that we get to teach French, Spanish, and a variety of other languages each day.  Gym and lunch beware, we're coming for you as the best class in school.
Top 10 Reasons Why World Language Class Is the Best!
10.  Our classrooms are definitely the most colorful:  flags, posters, maps, and other decorations.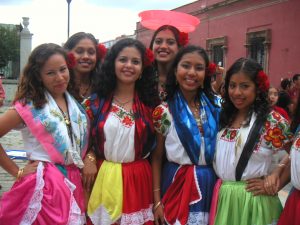 9.  We get to open our students' eyes to new ways of thinking and seeing the world.  I love showing my students video clips from all the Francophone and Hispanic countries (get these in my Free Resource Library – sign up below).  Traveling virtually makes students realize not only how fortunate they are, but also how beautiful these countries are.
After living in the American culture of needing so much stuff, it's so refreshing to see the vibrant communities that develop around music, dance, and storytelling in towns where people have fewer things.
8.  Our classes are like big families since we get to know each other so closely through lots of hands-on activities and partner work.
7. Talking about the weekend and the activities we like to do is actually considered learning.  Heck, we can talk about anything (movies, current events, controversial topics, pets, sports, etc.) and call it language learning.  Love it!
6. World Language teachers are a cheerful, witty, humorous group to hang out with, definitely not a shy bunch.  We love to be goofy and ham it up in front of our students.
5. We get to take our students to other countries.  Talk about the best field trip ever!!
4. We can basically teach about whatever subject we like (math, science, history, art, cooking, etc.) all in the name of learning.
3. Games and hands-on activities are our jam.  That's why we're often the noisiest class in school.  And as teachers, we can always use more game ideas.  Grab your free 50 review games in the Free Resource Library.
2. We get to sing and dance (maybe even do a little zumba), while everyone else is reading, writing, and doing math. #thisiswhyIteachlanguage
1. We get to eat delicious (and sometimes not delicious – if our students have prepared it) food.  In what other class can you get extra credit for bringing in flan or crepes with nutella?
Yup – let's face it, language class is just the coolest class in school.  This is the year to get your students excited about coming to class.  Let's make this the #BestSchoolYearEver!!