Hopefully, you were inspired after reading How to Create a Reading Library in Your World Language Classroom and now you're ready to pick out books for a Spanish reading library or French reading library. Perhaps you even thought seriously about doing it, but probably, something was holding you back.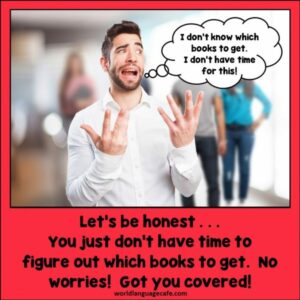 To solve this problem, I've put together the lists of French and Spanish books for a reading library that I ordered for my World Language Department. Use this as a guide to get you started, not as something that you must follow by the book (ha, ha – teacher pun).
I've included the prices (now keep in mind this was several years ago, but it will give you an idea) and the ISBN numbers for as many as I could find. I would recommend checking out Amazon, Borders, Barnes and Noble, and Scholastic.
Most of these books are children's books. You may be thinking: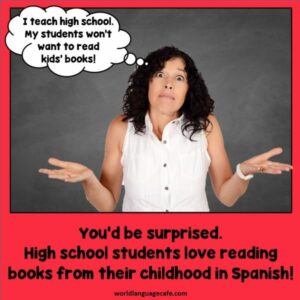 Trust me – your high school students will love these children's books just as much as elementary students.
First of all, there is something about seeing a cherished book from your childhood that brings back good memories. Can't tell you how many students say, "Oh, I remember this. This was my favorite book when I was a kid."
Secondly, even though the themes may be simpler, the language and vocabulary provide so much comprehensible input. Big pictures showing what's happening definitely help students understand the vocabulary.
And third, students can pick a really easy book or a more challenging book, based on their language skills or mood on any given day. Perfect for differentiated instruction!
The ultimate books for a French reading library
The ultimate books for a Spanish reading library
Have a favorite book that you think every French, Spanish, German, etc. teacher should have in his or her classroom? Come join us in the World Language Cafe Facebook Group to discuss all of our favorite Spanish class books and French class books.