For many of my Spanish Thanksgiving lesson plans descriptions, I write, "Need some time to bake pies and clean the house before your guests arrive or to pack before you travel to visit relatives? This Spanish Thanksgiving bundle of print and go writing activities, lesson plans, games, and crafts has everything you need to make it through the last 3 days before Thanksgiving break."
Just received this great feedback from a teacher on one of my Thanksgiving resources that inspired me to write this post.
"So awesome! I seriously DO want more time to bake pies with my own kiddos at home. Thank you!"
Who doesn't love pie?? So today, I'll be sharing my family's favorite chocolate pecan recipe, along with some free Thanksgiving resources to make your Thanksgiving that much sweeter.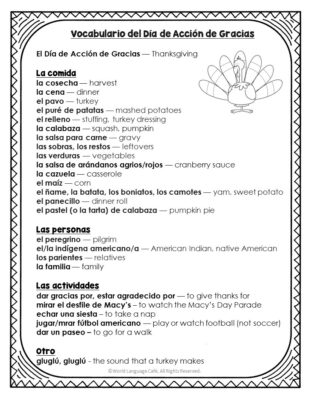 This pie is the perfect combination of chocolate (who doesn't like chocolate), a touch of coffee (caffeine boost), a hint of maple, butter (yum), and pecans. It tastes like gooey chocolately, mocha goodness with the crunchy nuttiness of the pecans. Delicious! And it's easy to make!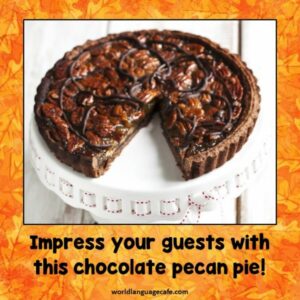 Chocolate Pecan Pie
3 oz. unsweetened chocolate
3 T. butter
1/2 c. sugar
3 T. water
1 t. instant coffee crystals
4 eggs
1 c. light corn syrup
1 t. vanilla
½ t. maple extract
Pinch of salt
2 c. chopped pecans
Extra chocolate to melt and drizzle on top (optional)
Ready-made pie crust
Vanilla ice cream
Heat the first set of ingredients in a saucepan on low, stirring occasionally until combined. In a separate bowl, beat the second set of ingredients together. Combine first and second mixtures. Pour into pie crust. Bake at 400 degrees for about 25-30 minutes. The pie will be a little oozy until it sets when it cools. Top with vanilla ice cream. This is important as it's much better with vanilla ice cream than Cool Whip.
Full Disclosure: I didn't make the pie in the photo, but that's pretty much what it looks like. My recipe doesn't have the melted chocolate drizzle on top. It really doesn't need it, but if you want to make it look fancy, go for it!
Thanksgiving Resources
Grab your free French or Spanish Thanksgiving vocab sheet in the Free Resource Library in the November Newsletter.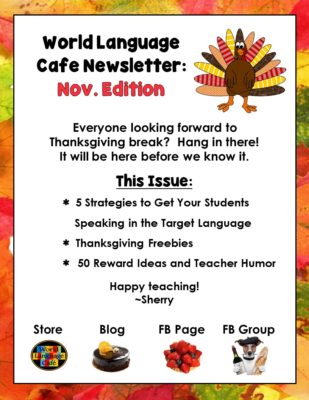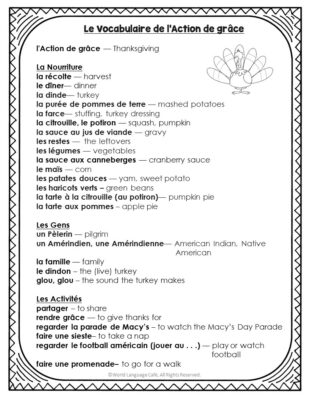 Here are some of the French and Spanish Thanksgiving lesson plans that will save you time so you can bake pies (and let's be honest – clean the house, cook the turkey, and mentally prepare for your house guests).
These tried and true bundles have everything you need for all levels of Spanish, French, and English. You'll have lessons for future years even if your classes change. Want something smaller? Try an individual resource if you're looking for something more specific (games – French, Spanish, ESL; writing activities – French, Spanish, ESL; craftivities – French, Spanish, ESL).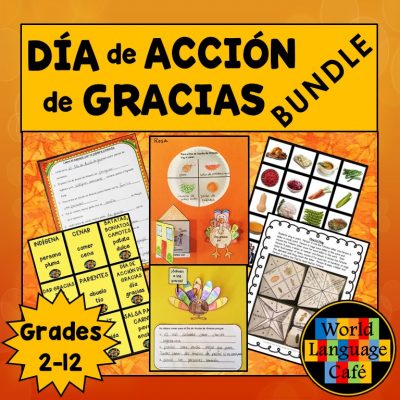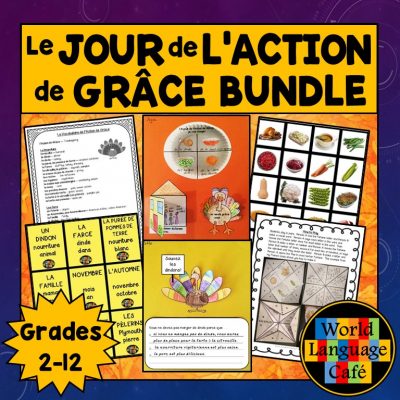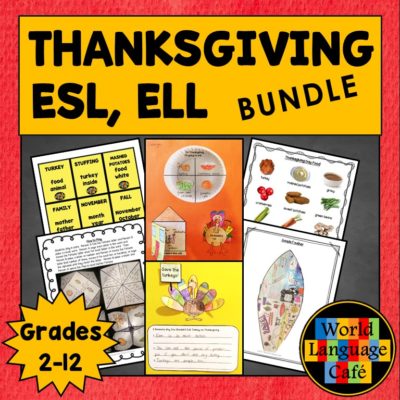 Happy teaching and Happy Thanksgiving!
~Sherry