Over 14,567 other teachers have already accessed 25+ free French and Spanish lesson plans.
What are you waiting for?
Free Spanish lesson plans and free French lesson plans are waiting for you . . .
50 World Language Review Games
Boom Cards – Self-Correcting Digital Flashcards
Interactive Notebook Flashcards for Question Words and Reflexives
Nationality Partners (Students learn the nationalities by pairing up with different partners throughout the year)
Mexico, Spain:  Video Clips, Flags, Photos, Interesting Facts
France, Canada:  Video Clips, Flags, Photos, Interesting Facts
"All About Me" Presentation
Spanish Commands Formation Guide
World Language Self Evaluation Form (Students evaluate their study habits)
Day of the Dead Vocabulary and Secret Message Worksheets
Thanksgiving Vocab and Fill in the Blank
50 Student and Class Reward Ideas
How to Choose between the Preterite and Imperfect
Valentine's Vocabulary
Transition Words to Improve Writing
Cinco de Mayo Worksheet
Emergency Sub Plans Forms
And so much more . . .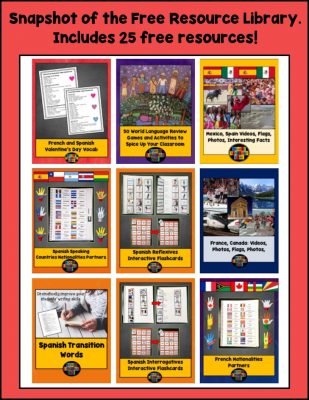 After You Subscribe:
First, open the email and click on the link. Next, enter the password from the email and download the resources you like. Throughout the year, keep checking the library as more resources are added.
If You Have Already Subscribed:
All Resources: www.worldlanguagecafe.com/resourcelibrary/
Free French Resources: www.worldlanguagecafe.com/french/
Free Spanish Resources: www.worldlanguagecafe.com/spanish/
If You Forgot the Password:
Hint: It's one password for everyone based on my store name with one letter that's changed. However, if you still can't remember, email me: worldlanguagecafe@gmail.com.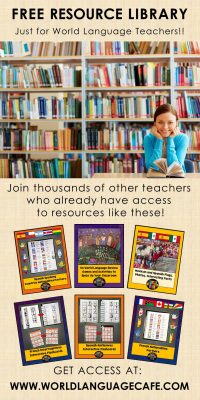 So what are you waiting for? Go get your free lesson plans!!
Sign up below!